There are four main ingredients in Khmer food: rice, fish, prahok, and kroeung – the last two being unique to this mouth-watering and tasteful cuisine. Below you can read just some of the foods you should try in Cambodia.
Rice is not only present in every Cambodian breakfast, lunch, and dinner. It is also present in snacks and desserts. Travelling through the Cambodian countryside, rice paddies offer an endless view that extends to the horizon. As one of our guides said "as long as Cambodians have rice, they will not complain about anything".
Fish is also abundant –or it has been so far. Lake Tonlé Sap is the largest lake in Southeast Asia, and an UNESCO biosphere reserve. This is also where the floating village we visited is located. Tonlé Sap river connects the lake to Mekong River, which crosses the whole country on its way to the ocean. As abundant fish may be during the rain season, it becomes scarce during the dry season. Cambodians had to learn to ferment it, so they could store it. This is how "prahok" came about. Prahok is a paste out of salted, crushed, fermented fish, also known as "Cambodian cheese".
"Kroeung" is the generic term for a paste produced by grinding into a heavy mortar different ingredients, such as galangal, turmeric, lemongrass, garlic, lime leaves, shallots and various rhizomes.
Khmer food is more sweet than spicy, and although it manifests some influences from Indian, Thai and Chinese cuisine, it is unique in its own way. Especially when it comes to insects, which became widespread during the Khmer Rouge regime. If you are here to find out about insects though, this is not the right place. Here are the 20 food and flavors we tasted during our week in Cambodia:
Top 5 of the foods you should try
Fish amok
Probably the most popular food of Cambodia, and definitely the answer Cambodians gave us when we asked them about their favorite food. I understand why: it has a very creamy, fresh, and silky taste. It is a coconut milk-based curry with garlic, galangal, fresh turmeric, lemon grass and lime leaves. It typically comes with (cat)fish, but you can also try it with different types of meat.
Khmer noodle soup (Num Ban Chok)
That was the very first dish we tried in Cambodia. It is made of rice noodles in a fish broth with coconut milk, kroeung and prahok. On top of the soup, you can optionally add banana flower, leaves, chillies, and picked cucumber. I didn't add anything extra, as I was already enjoying it.
Bai Sach Chrouk (Cambodian breakfast)
One of the traditional breakfast options in Cambodia, and one of my favorites. It may be difficult to find it after morning hours, but you can always try the Khmer Women Food restaurant near the Palace Museum, Phnom Penh. They offer it during the whole day. The pork is marinated with coconut milk, garlic, palm sugar, soy sauce, fish sauce, lime and Kampot pepper. It comes with vegetables and rice. My suggestion: give it a good mix before you start eating.
Eggplant and pork stir‐fry (Chha Traop Dot)
I loved the smokiness of this dish. The pork was almost minced, and the combination of fish and soy sauces made the eggplant much more interesting than I thought. I recommend it as a safe option for people who don't like spicy food.
Bamboo sticky rice (Kralan)
I was genuinely surprised by how much I enjoyed this. It is a sweet snack you can also find in Vietnam as "Com Lam" and in Thailand as "Khao Lam". It consists of sticky rice, red beans, palm sugar, and coconut milk. All cook over the fire inside a bamboo stick. To open it, squeeze the top of the stick, take out the "lid", and then peel it by pulling down narrow strips, while holding the rest tight together. Or just ask the street vendor to do it for you.
You can find a similar flavor in "sticky rice banana cakes". The only difference is that instead of beans you get banana cuts, and instead of bamboo stick, banana leaves.
Stir-fried dishes (Chha)
Stir-frying is a Chinese cooking technique which dictates stirring ingredients in a wok with a small amount of very hot oil. The Khmer learned this technique from Chinese immigrants, and "Chao" became gradually "Chha".
(Chha) Lok Lak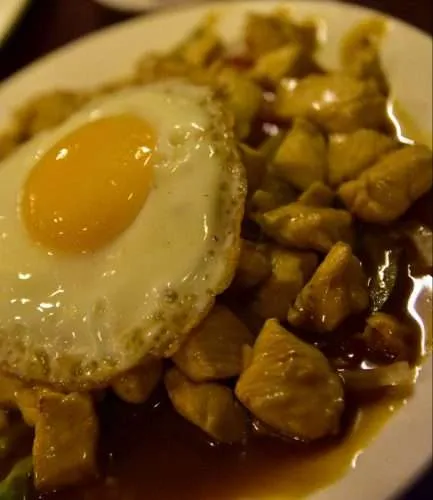 Many people, including locals, will suggest that you try "Lok Lak", yet it didn't make my selection above. Here's why: first of all, it actually comes from Vietnam inspired by the French. Secondly, it is stir-fried marinated cubes of meat (primarily beef) in a brown sauce, coming with rice, cucumber, and tomatoes. At least to me, this means that it is very close to any red sauce meat dish you may have tried already. Granted, the lime juice in the sauce and the Kampot pepper give it some exotic spin. Manage your expectations, but still try it.
Stir-fried noodles with chicken (Lort Chha)
You can't really go wrong with rice noodles. It's a versatile dish that will taste differently from place to place. As it's very popular with both locals and tourists, you will find it in most places.
Stir-fried ginger with meat (Chha Kh'nhei)
Lovely dish if you like ginger. The traditional recipe dictates julienne cut for the ginger, but mine was cut in thick circles. I had it with chicken, but you can have it with other types of meat. As you can imagine, the dish is a bit spicy, but in a warm and sweet way.
Stir-fried rice (Bai Chha)
Served in many different ways, with or without meat, very familiar to the western palate, it can be a safe option for anyone who doesn't want to experiment. Or anyone with an upset stomach – it happens!
Salads
Banana flower salad (Nhoim Troyong Chiek)
This fresh and a bit spicy salad can be a standalone dish or a companion to your main. It contains sliced banana flower (kept fresh in water with lime juice), onion, lemongrass, red chillies, mint, fish sauce, lime, cucumber, ground peanuts, and chicken strips.
Green mango salad (Nhoam Svay)
Mango is a fruit for most of us. In South East Asia though, when fruits are unripe (e.g. papaya, mango, jackfruit) they are used as vegetables. This green mango salad reminded me a lot of the Thai papaya salad. They are both spicy and based on the flavors of lime, palm sugar, and fish sauce.
Sang Vakk
This is a typical dish from Battambang Province. It is made of raw fish, galangal, garlic, salt, sugar, and hot chili wrapped in banana leaves. After a 2-day fermentation, it is grilled and then eaten with rice noodle and fresh vegetables. It comes with a sweet sour dipping sauce, made of sugar, vinegar, lime juice, and hot chilli. In the photo above, you can also see pork spring rolls.
Curry (Kari)
You know, curry, but Cambodian style, which means less spicy. I don't have much to say here really. I tasted it once and moved on. Although curry is popular in Cambodia, I think it's worth experimenting with other flavors. If though you don't want to experiment too much, it can be a safe option.
Soups
Samlor Kako(u)
A very popular dish soup in Cambodia. The vegetables prevail in taste, even over the fish that mine came with. It also contains kroeung, fish sauce, prahok, ginger, and a lot of vegetables.
Street food
BBQ pork ribs and duck in tuk merik
Cambodia is big on BBQ and the charcoal fires you'll see everywhere attest to that. The best thing about this meal was not the caramelized meat (as tasteful as it already was), but an amazingly simple dipping sauce called "tuk merik". It has just two ingredients: ground black peper and lime juice, and I will be definitely making this back home.
Buffalo and frog
One of the things we could see everywhere was buffalo strips drying under the sunlight. Unfortunately, I deleted the only photo of them. They looked tempting, but what was not tempting was the idea that they marinated with exhaust emissions of thousands of cars and tuk-tuks. Yet, I gave it a try, and found it very much beef-like, but leaner and a bit sweeter.
And what about the frog legs? Frog meat tastes like chicken, and as long as it is cooked in front of you, it should be safe.
Grilled potato
Nothing beyond what you can see, a grilled potato eaten as a snack when you want some good carbs to keep you going. Yet, it was somehow very tasty, crispy on the outside and soft on the inside.
Cambodian donuts (Nom Kong) and pandan custard
These miraculous donuts consist of mainly four ingredients: rice flour, coconut milk, palm sugar, and salt. What makes them even better is a deep dip into pandan custard, made of pandan leaves' extract, coconut and condensed milk, and sugar.
Coconut delight
Not a traditional dish as far as I know, but it may have been influenced by some local or Vietnamese dessert. It contains lotus seeds, red beans, vanilla and coconut ice cream, served in a young coconut. The best thing you can eat by an infinity pool during sunset, as we did.
Conclusion
No matter what you try, it will be cooked either a few minutes before or in that morning. Cambodians go to the market in the morning and cook for the day. The ingredients are fresh and the recipes colorful and tasteful. If you are not sure about a dish (and you have no allergies), just go for it.