A visit to the floating villages of the Tonle Sap lake is one of the most humbling experiences you can have in Cambodia.
When I found out about them, I knew I had to find the right guide for this, a guide who wouldn't treat these communities as human zoos, where you go in and photograph the hell out of the people taking no time to be truly present.
Selecting our guide
My research led me to the Community First Tours, which supports to the "Bridge of Life School". The guides are people from the Kompong Khleang village, which is more remote and less touristy than other floating villages. The money from the tours are invested back to the community. Pre-primary Education, Clean Water, Sewing Program, and English classes are some of their projects.
Our guide Saro and his driver picked us up from our hotel at 2pm, and after picking some more people, we took off for Kompong Khleang.
The adventure begins
On the road there, we stopped first at a stall by the road for bamboo sticky rice (see here the foods you should try in Cambodia). Five minutes later, at a local bakery where we tasted various sweets, like mini doughnuts, mango leaves, spicy lotus and banana chips.
The floating village was 55km and a 1.5-hr drive from Siem Reap. Nothing could prepare us for the scenery.
Daily life at the Floating Villages
Average number of kids per family is six, so space is important. The houses are big, and the missing doors and windows allow the curious eyes to penetrate them. There are shops in the community selling the essentials. For anything else, people visit the nearby markets or Siem Reap. Their day revolves around work. In the evenings, they play volleyball, the cards, or invite friends over for food and rice wine.
What surprised me is that, in spite of the perceived (by Western standards) poverty, many families had pictures of the current King and Royal family on their walls. Some existential questions crossed my mind, but kept them for myself.
Kompong Khleang stands here for centuries and houses around 20,000 people. The community got access to electricity in 2015. Before that, people used oil lamps, using fish oil. We had all crazy questions about the village. Do people marry each other? Do people go to school? Can people leave the village? I felt so naive, and somehow guilty for my ignorance.
It turns out that the community is no different to any other place. People just get on with their lives looking for comfort, love, or success. The only difference is that during the rainy season people are fishermen, and in the dry season they become farmers.
Education in Kompong Khleang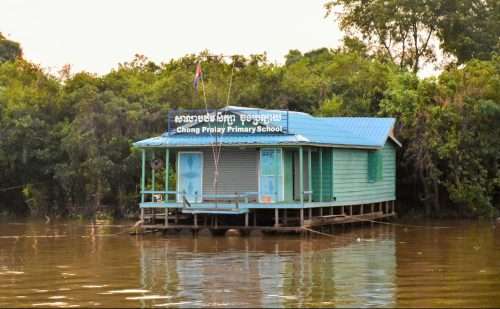 The typical students won't begin their formal education until the age of eight. This is why the Bridge of Life School offers its pre-primary program to more than 60 children, housed in one of the stilted structures. We were sitting in their classroom, on benches that they use for tables. The actual students sit on the floor. The teacher is an educated fisherman. He teaches in the morning and fishes in the afternoon. They also provide a boat that shuttles the students along to lake during the rainy season.
Humble feelings
Saro took us to his neighborhood. Suddenly, the tour was even more unique. He allowed us a sneak peak into his life. He had just graduated from a Business Management school in Siem Reap. Once he accumulated the capital, he aspired to open his own business. Instead of just focusing on this, he also worked as a guide to give back to his community.
We boarded a boat and cruised along the village towards the open lake. Returning fishing boats passed us by, some of their passengers waving and smiling. Others were looking expressionless.
We were there only out of genuine interest, yet I don't know if they all perceived it the same way. A clash of feelings. Admiration for the people who make ends meet under these circumstances versus our luck to have had a much easier life.
After sunset
We soon found ourselves out in the open waters of Tonle Sap. We couldn't tell whether it was really a lake or an ocean. It is the biggest lake in Cambodia. The sun was setting, while we were going through the remaining sweets. It was calm and peaceful.
Our ride back in the dark somehow threw a different gleam on this community. Few lights indicated that their evenings are much different than ours: quieter and more peaceful. Some people were tidying up their fishing equipment, some were relaxing in groups. Back to the square few men were enjoying a gig by a band. One guy was dancing alone in the dark. Two teenagers were sitting on a bench, a street vendor was waiting for late customers.
We got on our mini van, and made our way back. Another day had gone by. We were leaving, and it felt like leaving them behind, in a daily life that felt too hard for most people who grow up in the West. We spent a lot of our time asking questions to Saro. He was thanking us for visiting his village, but it should be the other way around.
This tour gave us some perspective, and I definitely recommend it as a must-do for your visit at Siam Reap.